Presentation of the company
Specialized in medium and small series, we offer you a wide array of services all certified ISO 9001 version 2000 : study and industrialization  (3D design, possibility to collect and use your technical data), high-precision fine sheet metalwork, punching, laser cutting, mechanized welding, assembly and integration, painting and silk-screen printing.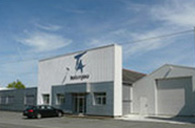 Since its foundation in 1993, SAS TOLANJOU has offered its global solutions to national and international structures in the fields of street furniture, military industry, electronics, telecommunications and railway equipment. We control any kind of metal strain such as steel, stainless steel, copper alloys and especially aluminium.
With a highly-qualified team of 45 people, a sales volume of  5 millions Euros and its strong will to innovate by constantly investing in new production technologies, there's only one reason to explain the success of TOLANJOU: the satisfaction of its customers.